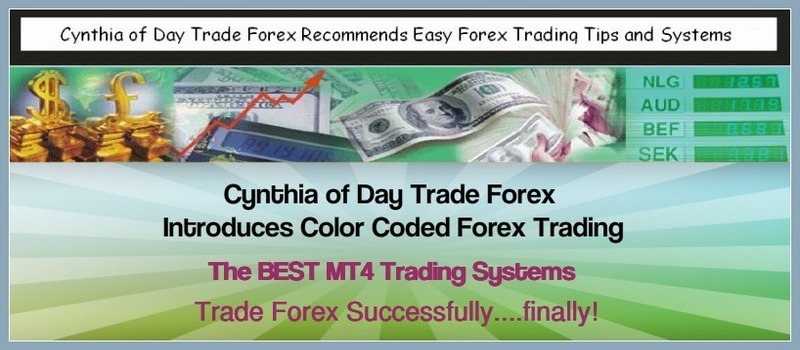 Welcome to Cynthia's Color Coded
MT4 Trading Systems website!
What is Color Coded Forex Trading?
Color coded forex trading is when a chart is made up of candles or bars and indicators that confirm a trend when all the colors match.  Another word for it would be color coordinated.
       Here's Cynthia's latest color coded trading system: The ULTIMATE FUSION MT4 Retracement System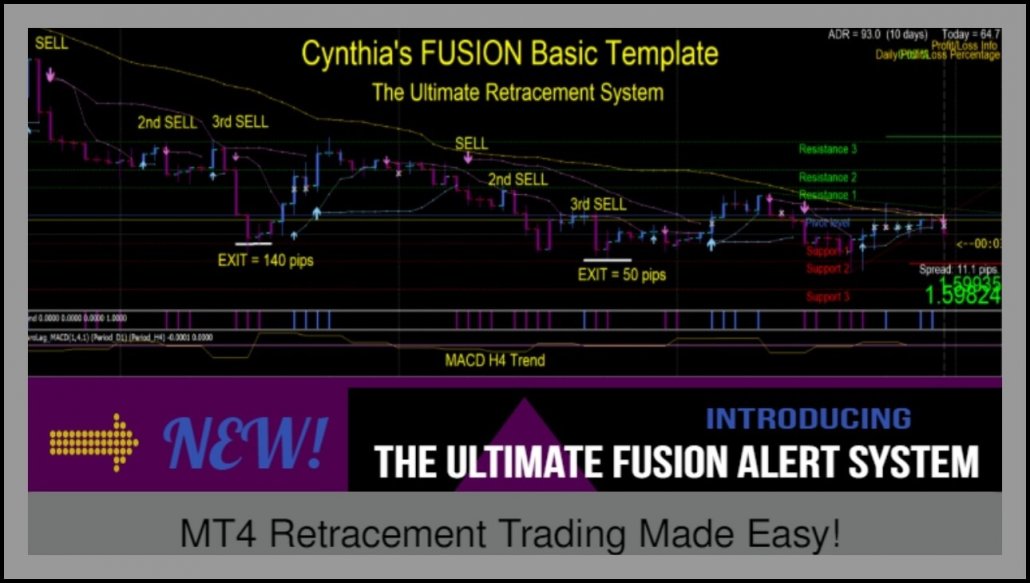 The ULTIMATE FUSION MT4 Retracement Trading System was created to help see and trade retracements more easily and profitably. 

CLICK THE BUTTON BELOW

to learn more!
Here's Cynthia's Green Tomatoes For Newbies:




The Green Tomatoes For Newbies trading system was created for absolute newbies to forex trading. 

CLICK THE BUTTON BELOW

to Download a FREE PDF Guide for how to get started!
CLICK HERE to download FREE Getting Started PDF
NOTE:  The Green Tomatoes For Newbies is NOT just for newbies!  There are progressively advanced levels that offer more for intermediate and advanced traders.  Everybody starts with the basic system to learn the fundamentals of the template and indicators.  Traders can upgrade as they are ready.  The PDF has many training videos for each level. 
H

ere's Cynthia's Currency Strength Meter Template to help find trending pairs:

CLICK THE BUTTON BELOW TO VISIT THE WEBSITE AND WATCH SOME VIDEOS:
The Neon Breakout System specializes in seeing retracements and divergence:

CLICK THE BUTTON BELOW to visit the Neon Breakout webpage to watch some videos and see more charts:
Here's Cynthia's Easy Color Trend and Flat System: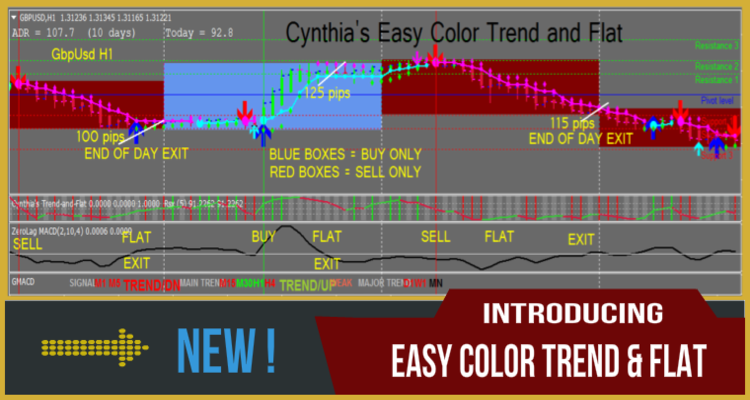 Click The Button Below To Visit the Easy Color Trend and Flat webpage:
Here's another color coordinated chart example using Cynthia's Breakout Simple System: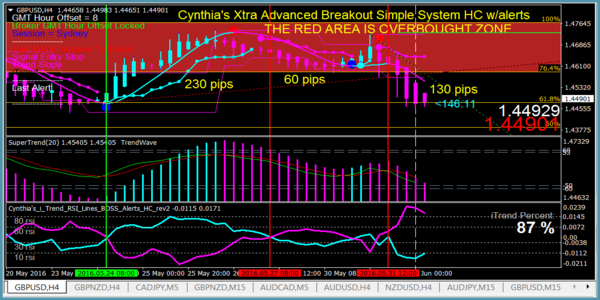 Click the button below

to Visit the Breakout Simple System webpage:
Why does Cynthia like this style of trading over pure price action or normal indicators and moving averages which typically are all different colors?
Well, it's simple.  It's because the brain gets overloaded very easily and the conscious mind gets confused and worries and becomes indecisive or makes poor judgements and decisions…. it's called 'input overload'.
So as well as being pleasing to look at, color coded forex trading makes the brain and conscious mind relax and not have so much information to process, so trading decisions are easier and faster and much less stressful.
Compare Cynthia's Color Coded Charts to Regular Charts
It's so obvious….compare a chart with lots of different squiggly colored lines and candles or bars that are colored but don't really relate to the many different squiggly lines…and it's worse when you look at the candles or bars themselves…and because of the changes in color every bar or couple of candles, it makes a trader nervous and unsure of what the trend is or what he/she should do.
Then look at one of Cynthia's charts, where all the candles or bars are smoothed trend candles of the same color that clearly show the trend.  And the indicators are color coordinated and match the colors of the bars or candles.
In addition, the indicators are all based on volatility, so the trend colors become even more dependable and reliable and hence, trustworthy.
Got the Forex Trading Blues?
You need one of Cynthia's Color Coded Trading Systems!
For NO FEAR trading, you MUST trade with one of Cynthia's Color Coded Trading Systems!
She has developed seven MT4 color coded trading systems… check them out and watch some videos!
You'll immediately recognize that if you want your forex trading to become less stressful and more profitable, you have to start trading with one of Cynthia's color coded forex systems today, don't wait!
Dedicated to your trading success,
Cynthia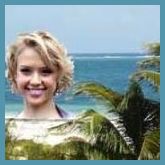 Trading from the beaches of Mexico!  You can too!
PS. Visit me on Facebook and give me a great big 'Like'!
Visit my

About Me

page and read about my Trading Story!
Save
Save
Save
Save
Save
Save
Save
Save
Save
Save
Save