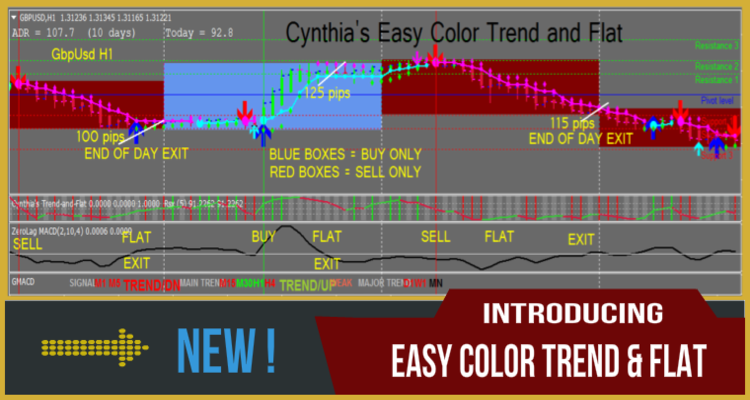 Cynthia's Easy Color Trend and Flat System
Cynthia's Easy Color Trend and Flat System
is one of the easiest MT4 forex trading systems to immediately
at-a-glance recognize the major trend direction.
The red and blue boxes are showing the Daily trend, which is the major trend…
pro traders will only trade in this direction…
especially if trading red news events from the Forex Factory Calendar.
Written for the MT4 trading platform, the box color shows you immediately what the Daily trend is…
and you should only be looking for trade setups trading
in the direction of the box color.
No matter what time frame you're looking at,
the red or blue box is showing you the Daily trend.
The height of the box also shows you the current range for the day.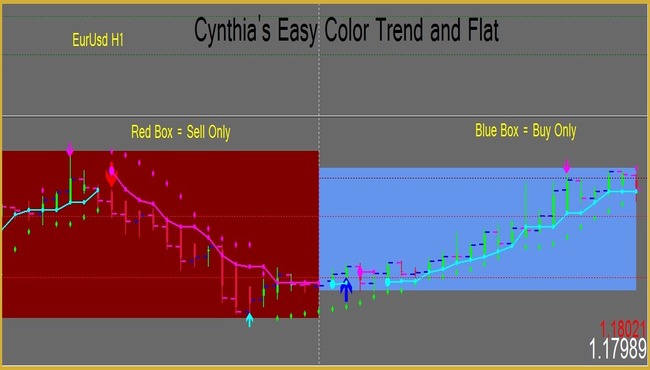 Cynthia's Easy Color Trend and Flat System
makes trading about as easy as it can get!
Here's a short introductory video that explains how Cynthia's Easy Color Trend and Flat System works:
With Cynthia's Easy Color Trend and Flat System
and the color coded indicators based on volatility
and the colored boxes which show you the major trend direction,
it's easy to trade in any time frame you like.
Scalp, day trade, swing trade, trade any currency pair,
including gold, silver, bitcoin, oil, stocks and indices….
whatever trading instrument your MT4 broker offers,
you can trade successfully and easily with Cynthia's Easy Color Trend and Flat System.
Cynthia's Easy Color Trend and Flat System
is going to make your forex trading successful… finally!
GET STARTED NOW! TAKE ACTION! YOU NEED THIS!
Click the link HERE to visit the website to learn more and to order!
SEEING THE TREND AND ENTRIES AND EXITS IS NOW A BREEZE!
NO MISTAKES, NO FEAR!
To your trading success!
Cynth

ia

Trading from the beaches of Mexico! You can too!
DISCLAIMER: The information on this site is for educational purposes only.
Trading is risky and is not suitable for everyone. Only risk capital should be used.
You are responsible for your results and agree to hold everyone else harmless if you lose.