The Ultimate FUSION MT4 Forex Trading System
Created by Cynthia of Day Trade Forex, forex trader and system developer since 2004.
The Ultimate Complete Forex Trading System using her favorite indicators from the last 11 years of creating color coded MT4 trading systems….
a 'Fusion' of the best of the best!
All indicators show trend and momentum and are color coded for easy understanding of trend, entries, re-entries after retracements, and exits, and are non-lagging and non-repainting. 
The candles are smoothed trend candles, the silver X's are consolidation flat areas with no trend or momentum. 
The FUSION trading system specializes in making it really easy to see and trade retracements, one of the most important skills to learn in trading.
Learning how to trade retracements is very important, because most often we miss the beginning and best entry for the major moves.
But major moves can last a while, so if the trend is strong, it will have retracements (pullbacks), because price never moves up or down in a straight line, there are always pullbacks or retracements.
By trading retracements, you don't have to perfectly catch the beginning of a trend, you can wait and see when the price pulls back and enter at an opportune time when price resumes the main trend.
The slow gold line & arrow show the major trend and we wait for the fast, medium & slow Bollinger Band trend lines to agree. 
First entry is when the gold arrow appears. 
Retracement re-entries are when either the fast pink or blue arrow appears.  I've dropped in green vertical lines to show the 1st buy entry and 2 retracement entries.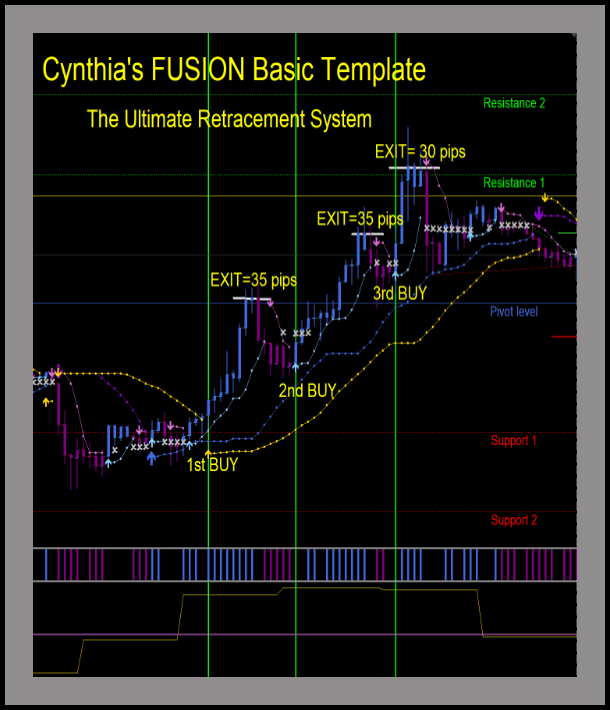 Exits are at either the Fibonacci support & resistance levels, or the Triangle Breakout target lines.
The purple and blue trend bars below the main window show the up or down trends, with a black area as trend-less. 
The silver X's show flat consolidation.  We wait for the flatness to disappear and trend to resume or a new trend to begin.  
The 3 dotted trend lines are Bollinger Bands with arrows that give you a popup alert when an arrow appears.
The 3 colored Bollinger Bands dotted trend lines agreeing is our clue to enter… the popup audio alerts draw our attention to potential setups &/or entries. 
THE SLOW GOLD ARROW IS THE MAIN ENTRY SIGNAL AND HAS A POPUP AUDIO ALERT!
The Bollinger Band trend lines react to volatility the same way a Bollinger Band indicator works.  The lines become very far apart when volatility is strong, and get very narrow and tight when volatility decreases.  After a consolidation period shown by the silver X's and tight Bollinger Band lines, price will break up or down.
There are 3 different colored Bollinger Band dotted trend lines with arrows in the main window that follow price action in the candles and react to volatility:
The light pink/blue Bollinger dotted trend line and arrows are the very fast trend line that also gives you entries after consolidation and re-entries after a retracement.
The medium Bollinger dotted trend line is a dark blue or purple dotted line with a larger setup arrow that gives us an early alert that major trend is about to change, and then we use the fast light blue or pink entry arrow for entry confirmation, with popup audio alerts.
The Gold Bollinger Band dotted trend line is the slow major trend line and when a gold arrow appears, it's telling you a major trend reversal is happening.
If the other two Bollinger Band dotted trend lines agree, and the color coordinated candle and other indicators agree, you have a buy or sell entry point.
All you have to do is watch and wait for all three Bollinger Band trend lines to agree in color and use the arrows (with popup alerts!) to determine exact entry.  Trades placed in this manner are very high probability for good success.
The fast arrow can be used for re-entries on retracement trades. 
We place buy trades ONLY if the fast and medium trend lines are above the slow gold major trend line…
and sell trades ONLY if the fast and medium trend lines are below the slow gold major trend line.
The 3 colored Bollinger Band dotted trend lines help us to avoid most of the consolidation flat trend areas that can whipsaw our trades.
THIS IS ONE OF THE STRONGEST FEATURES OF THIS TEMPLATE! 
The ULTIMATE FUSION MT4 Basic Template is only $57!  Click below to get started NOW!
Click Here to visit the ULTIMATE FUSION salespage