PLEASE BOOKMARK THIS PAGE
Thank you for unlocking your FREE 'Breakout Scalping Trade Manager EA'!
THANK YOU FOR JOINING CYNTHIA'S FOREX MAILING LIST!
You'll receive related forex info from Cynthia about new forex products and you can un-subscribe anytime!  Cynthia buys new forex products as often as she can and only recommends the ones she really likes…so you can rely on her for honest reviews.  (Click the 'Cynthia's Recommendations' tab at the top of this page.)
Please click the link below to download Cynthia's Breakout Scalping Trade Manager EA.
Download Cynthia's Breakout Scalping Trade Manager EA by right clicking the link below and choose to 'Save Link As':
CLICK HERE
and save/download the .ex4 file (don't try to open it) onto your desktop in a folder you create called Cynthia's Breakout Scalping EA so that you can find it again.
Open folder and copy/paste the .ex4 file to your Experts folder inside your open MT4 platform:
Click the word 'File' in the top left corner of your open platform, then click 'Open Data Folder', then click to open the 'MQL4' folder, then click to open the 'Experts' folder and paste the .ex4 file.
Then under 'Navigator', click the 'Common' tab and right mouse click anywhere and choose 'Refresh'.
Then look under 'Expert Advisors' look for Cynthia's_ Breakout_Scalping_ EA
click it once and hold the click and drag it onto a chart that you want to trade.
You'll find the EA attached to your chart in the top right corner and it should have a smiley face.
If it doesn't have a smiley face, go to the top of your platform, click 'Tools', click 'Options', click Expert Advisors, these two outside boxes need to be checked and the 3 inside boxes need to be unchecked: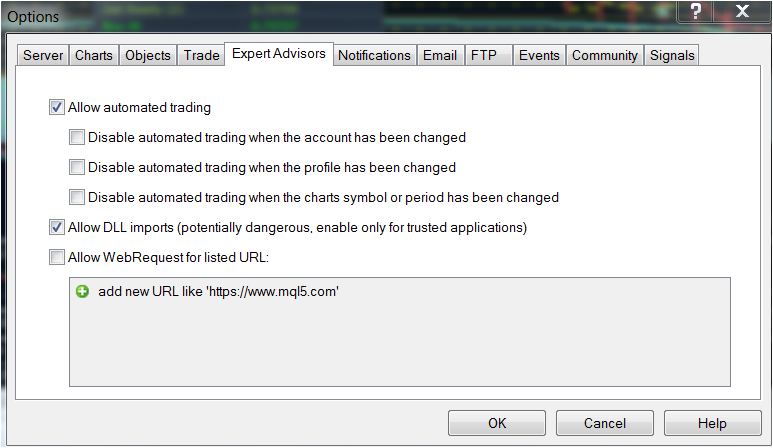 Please note that this EA will work on a 4 or 5 digit platform or an ECN account or an account that uses a "suffix" at the end of the currency pair. EX: "eurusd" is "eurusdt" or "eurusd.p".
You do need to enable the trailing stop by changing the setting from False to True and you can change the trailing stop value to more or less than the default 5 pips in the trail_distance field in the Inputs tab.
If using an ECN or 5 digit broker, you will need to add a "0" to the 5 pip trailing stop…so your "5" will be "50". Please watch the video below to see how to do this.
If you want to day trade instead of scalp, you can change your 5 pip trailing stop to 10-15-20-25 pips and trade in a 5-15-30 min chart (as an example)….if using an ECN or 5 digit broker, remember to add an extra "0" to make your trailing stop 100 or 150 or 200 or 250.
After you place your trade, you need to manually place your stop loss. Then the EA will move your stop to breakeven when in profit by 5 pips (the default value) and trail by 5 pips (the default value).
I'm using it to scalp in a 1 minute chart and I love it for quick money when I have the time to play. It's a great way to learn to trade and to hone your chops.
Just attach it to a few charts (have the alert to "True") when you feel like scalping and if you think you have a good trade setup, click to buy or sell.
You can manually add your stop loss and it moves your stop to breakeven after the price hits 5 pips and then trails the price by 1 pip. (the default value).
NOTE:  This Trade Manager EA works on some MT4 brokers but not all.  I've tested it on my four brokers, it works on two of them, and not on the other two.  If it doesn't work on your broker, demo test it on another broker.  This is just the nature of MT4 broker platforms…they are not all created equal, there are many different plugins that the brokers use and some plugins interfere with some EA's and Indicators…you'll just have to test different brokers that you're interested in using.
You have to actually know how to trade to use this EA….
I use the Breakout EA with my Breakout Simple System with a 15 min chart open to see the major trend, a 5 min chart to identify the pullbacks, and the 1 min chart to get the best entries.
I use my Breakout Simple System trade setups and trade the quick retracements in a 1 or 5 min chart . So when I see a trade setup, I either hit the buy or sell ….and the EA trails the price, everything happens really fast, it's pretty cool!
Here's a video showing you how I'm trading with my Advanced Breakout Simple System using the Breakout Scalping EA:
The Advanced Breakout Simple System is what I'm using in the videos.
(NOTE: the Advanced Breakout Simple System is no longer for sale, it has been updated to become the Xtra Advanced and it has it's own more sophisticated Trade Manager.  To purchase the Xtra Advanced (for $97), you must first purchase the Basic Breakout Simple System (for $57).
You can adjust the settings to be more than just a 5 pip trailing stop….if you want to trade for more pips, just adjust your pip value be 10, 15, 20 or 25 pips to trail!
I hope you enjoy your Breakout Scalping EA!
If you need a good trading system to use with the Breakout Scalping EA, so you know if you should take a trade or not, please take a look at my two manual trading systems that are the best for scalping and day trading.
I have a Basic and Xtra Advanced Breakout Simple System, and even though I use the Advanced Simple System in the video, the Basic & Xtra Advanced Simple System works just fine for this Scalping EA.  If you purchased the Xtra Advanced template, you also get the Advanced template as part of the special upgraded package.
Please visit my Breakout Simple System website and watch some videos of how this system works for manual trend trading, please CLICK HERE.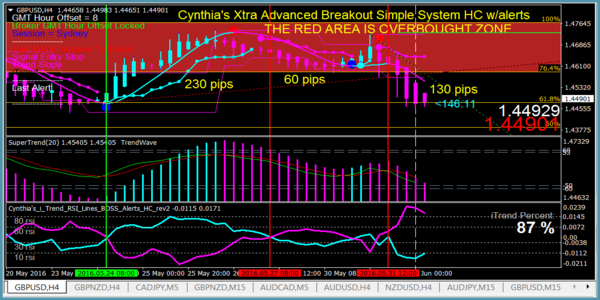 The Xtra Advanced Breakout System has extra alerts and other trading tools that the Basic and Advanced system doesn't have. It also has it's own Trade Manager that's more sophisticated than this basic Trade Manager that you're getting for free.
On the website you can purchase the Breakout Simple System for a really nice discount via Paypal! Perfect system for trading 5 – 15 min to 30 min – 4 hour charts.
OR
The "Color Ribbon Surfing System"
TRADE WITH COLOR & VOLATILITY FROM KEY LEVEL TO KEY LEVEL!
Uses the major and minor key levels that are automatically on the chart via a special indicator.
GREAT for scalping or news trading or for trading 1 – 4 hour charts for swing trades.
Cynthia's Breakout Scalping EA works great with this system too!
Here's my Color Ribbon website, please CLICK HERE to watch a video of how this Trend Trading system works.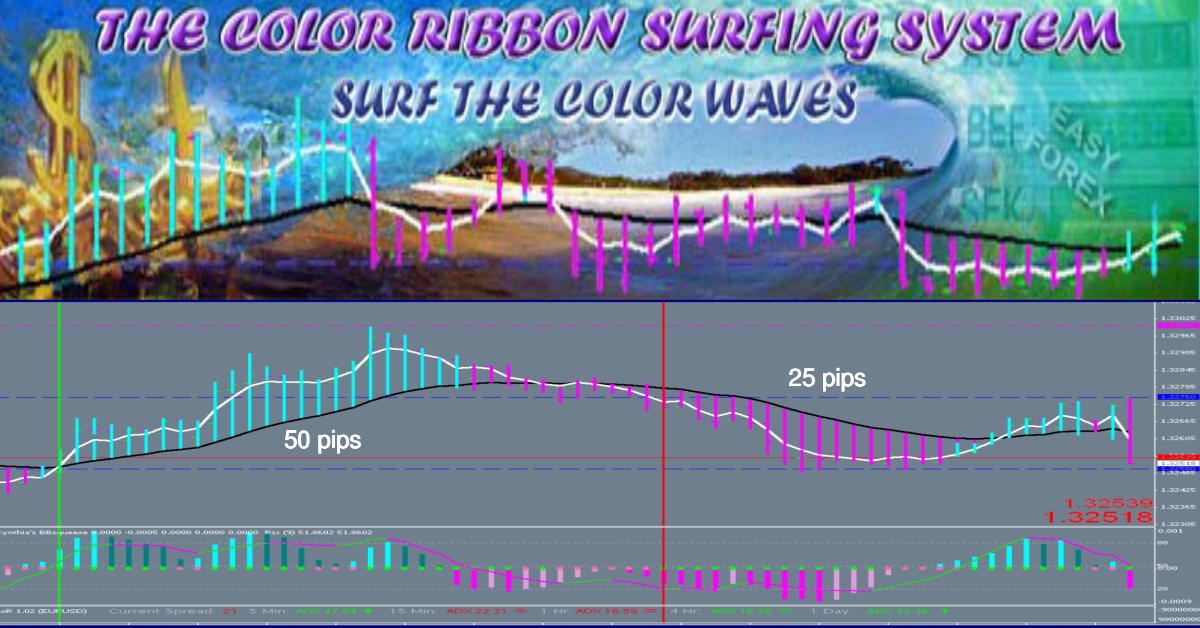 Even though this is not a news trading or scalping system, you can trade the news, scalp, day trade or swing trade with any pair.  Best traded in time frames 5 min up to 4 hour, the optimum being 15 min.
"Learn how to trade using only color and volatility!  Trading is easy because all the indicators are color coded to go long or short & the
volatility is strong enough to avoid most whipsaw trades."
"Cynthia's manual trading systems are based on color-coded indicators
that make it easy on the brain to make trading decisions.   Simple yet
powerful, at a glance you'll know what to do!"
Dedicated to your trading success,
Cynthia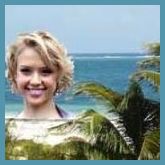 Trading from the beaches of Mexico!  You can too!
PS. Visit me on Facebook and give me a great big 'Like'!
Save
Save